tags: courage-quotes, destiny-quotes, determination-quotes, determined-person, determined-spirit, faith-quotes, fate, fearless-bravery, fearless-quotes, gladness, inner-strength-quotes, inspirational-quotes, joyful-living-quotes, manifestation, manifesting-dreams, manifesting-our-deepest-desires, overcomer-quotes, overcoming-adversity, overcoming-challenges, soul-quotes, spiritual-quotes, spiritual-wisdom, thankful-quotes, uplifting-quotes, wisdom-quotes
There is no real risk to chasing your dreams. As far as I can tell, it's a lot of fun and a thrilling journey. My experience with countless clients over many, many years, is that all the risk…all the frustration…and all the disappointment, is born from not chasing dreams. (But please remember, there is a way to chase dreams successfully which is like chasing butterflies. Put yourself in the right energy field, and become a magnet for those butterflies. The more direct method of butterfly catching is so much harder).
The ability to imagine something better is the fuel of all great invention, change or innovation in life. Without it, we are essentially floating adrift without a compass. Google is the grand champion of visualizing dreams, and making them happen. They give their managers 20 percent time off -- just to work on personal dream projects. Chade-Meng Tan transformed his engineering job to become their official "Head of Personal Growth" and teaches a Mindfulness based Emotional Intelligence course for employees. Meng hopes to see every workplace in the world become "a drinking fountain for happiness and enlightenment."
a) Electrons have positive charges. b) In physics "Like always attracts like." [magnets?] c) Thinking burns up brain matter. d) Only ether (not air) conducts light and thought. e) Ether connects all minds together. When 2 or more minds come close together, "mind stuff" mixes, and creates a third, "master mind." f) Higher altitudes have more oxygen, better air for breathing. g) Vibrating sound more quickly turns it into heat, then light, than thought. h) Thought energy is 40,000 Hz to 4 X 1014 Hz or above 7 x 1014 Hz. In reality brain waves are slow 1 – 100 Hz. i) The universe hears nouns, not adjectives or qualifiers or only sees pictures of your thoughts. j) Every thought you have (about 70,000/day) has a specific frequency or wavelength of energy. "Thought Stuff" leaves your brain, travels through the ether around us and causes "Formless Stuff" to create whatever you are thinking about.
On The Verge Of Manifestation
What does it mean to manifest hopes and dreams in your life? The idea of visualizing something we want, and attracting it to us, is an ancient principle of life. Some choose to pray, while others chant, meditate, visualize or create affirmations. Yet, the never-ending tragedy of global economic catastrophe, volcanoes, oil spills and war has beaten many positive thinkers right down to the ground, and taken a tremendous toll on our collective psyche.
The Law of Attraction is one of life's biggest mysteries. Very few people are fully aware of how much of an impact the Law of Attraction has on their day to day life. Whether we are doing it knowingly or unknowingly, every second of our existence, we are acting as human magnets sending out our thoughts and emotions and attracting back more of what we have put out.
Similarly to the above point, mental health can really impact your physical health and wellbeing. Therefore, you should decrease any levels of stress as soon as you can. In addition, The Law Of Attraction focuses on this idea of self-confidence and faith in the universe. You need to let go off all feelings of doubt in yourself in order to utilize The Law Of Attraction effectively. Can You Manifest Something Overnight
The New Thought movement (Law of Attraction Origins) grew out of the teachings of Phineas Quimby in the early 19th century. Early in his life, Quimby was diagnosed with tuberculosis. Unfortunately, medicinal treatment wasn't working, so he began carriage riding through his hometown, Lebanon, New Hampshire. He then regained his health and recovered, an event that prompted his study of "mind over body".[10] Although he never used the words 'Law of Attraction', he explained this in a statement that captured the concept in the field of health:
Copyright © 2018 HubPages Inc. and respective owners. Other product and company names shown may be trademarks of their respective owners. HubPages® is a registered Service Mark of HubPages, Inc. HubPages and Hubbers (authors) may earn revenue on this page based on affiliate relationships and advertisements with partners including Amazon, Google, and others.
According to Doreen Virtue, in Angel Numbers, 11 is the number of manifestation so when you see 11:11, it's important to pay attention to your thoughts because you're in high manifestation mode. Today is November 11, or 11/11, referred to by some mystics as the Gateway time of the year when a doorway opens to the divine and our manifestation powers go into high gear. So of all days: Think only about what you want, and stop that pesky worrying!
Schedule some quiet time for some deep contemplation of what you desire to create in your life. What are your goals, hopes and wishes? Sit down with a pen and paper. Get clear, crystal clear. Define what you do want. Describe it, draw it, and define it. Define it in terms of the positive attributes. Define the attributes and characteristics of your dream. Take care not to use anything as a descriptor that is actually a statement about what your dream is not. Define what it is. Know exactly what it is you want.
When we hear words like manifestation, attraction and creation, we often associate them with getting. But the real power of the law of attraction is found when we shift our attention from getting to giving. Generosity, love and service are not afterthoughts — things you think you'll have time, money and energy for once you get what you want. The energy of compassion is what drives a truly co-creative engagement with the Universe. My book teaches you a method of manifestation that integrates the element of giving from the very beginning.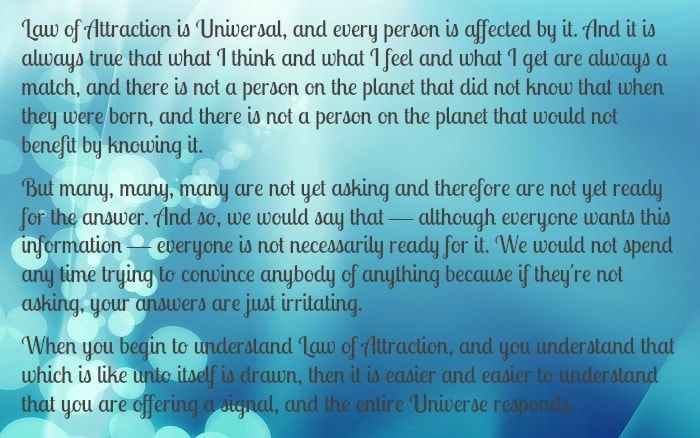 And, just as an important side note: Your subconscious is way, way more powerful than you possibly give it credit for. Most people don't realize this fact. Your subconscious knows exactly what you're going to do. It's infinitely more aware of what's happening in the universe than your conscious mind. It simply won't be bullied. It's happy for you to tell it what to do, once you master the process of doing so.
Develop an unflappable belief. Very likely you haven't manifested what you desire because deep down you don't believe that it could be yours. This is absolutely common and there is nothing bad about it. Nevertheless, if you lack the belief that it can be yours then it CANNOT manifest. With your disbelief you block the manifestation. Let's say that you have a clear vision with strong desire but you don't believe that it could happen for you. Then what happens is like saying; ''Actually, I cannot have it. I don't believe that it can be mine." The Universe responds; "so be it". Why don't you believe that it can be yours? Dig deep within yourself to find out what you belief is and then work on changing it.
Of course you can allow yourself to experience every kind of feeling just for the experience of it. Listening to bittersweet or sad songs and watching heart breaking movies sometimes do help us to cherish the positive and happy things in life more. It is ok to engage in things that causes you to experience them some of the time. Just make sure that your dominant emotional experiences are in accordance to experiencing what you do desire.
Look. Yes, you should have a vision of what you want your life to look like. I have a very clear vision. But it's not hanging over my head. It's in my pocket. Actually, it's in my phone. And it changes as I change. They are a list of wants and goals but not needs. They do not define me or my worth. My vision acts as a compass. Do I want these things? Fuck yes I want these things. Will I not allow myself to be happy if I don't obtain them? Nope. Been there, done that. Never again.
How Do I Manifest A Baby